"Come away oh human child
To the waters and the wild
For the world's more full of weeping
Than you can understand."
from Stolen Child by W. B. Yeats
When tearful moments threaten to cloud the joy in my life
I feel myself called to the gardens.
In Eden, God walked and communed with Adam and Eve.
I, too, find my Lord in the glade of beauty I call home.
Of late I have felt a flagging of hope.
Alexander Pope assures me in Essay on Man that
"Hope springs eternal in the human breast."
I grasp that thought and venture out among my gardens
to seek hope.
I walk . . . I talk . . . God listens.
I continue to walk, but cease talking . . .
God shows me hope springing forth all around me.
By definition a garden contains life.
As a metaphor it enriches life with hope:
Dreams of things yet unseen
. . . merely hoped for.
Four stages of hope in this single "ballerina" spray.
From bud to full bloom,
Four separate stages of life
In a single dancing frond.
Hope in glory
Fresh growth, ruby red and strong as it reaches heavenward.
The very first buds of this azalea,
Planted several years ago,
Choose to appear at summer's last dance
Rather than at the full springtime gala
She received instinctual invite to.
Yet another late bloom . . .
The sweet australian violet shyly lingers like a whisper.
The ruby fruits of crabapple,
Like darling buds of September,
Doth hang in plain view,
Enticing birds to nibble
While they may.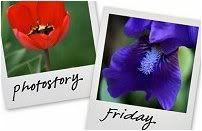 Hosted by Cecily and MamaGeek