Whoosh! Did you hear that … the sound of a week rushing right by? I stand on the threshold of Faerie Tale Friday once again. Oh my, so soon? Well, I shall simply put the kettle on to sing, measure the leaves into the teapot, set out some pretty china cups, and settle down for a wonderful adventure.
This week's tale comes right from that every day ordinary experience of losing one sock in the washer. Now around here we toss the unclaimed mate into "The Sock Orphanage." Some lucky socks find a mate soon and return to the land of neatly-paired-in-drawers (or in Rachel's case, neatly-paired-and-lying-on-the-floor). But what happens to those unfortunate socks that never find their mate?
Well, in our wooded land the Crafty Ones lurk and peer, hoping to steal away unsuspecting items. Like faeries after changelings, those Crafty Ones whisk away the mateless ones and carry them far beyond the horizon of Laundryland to a new life. Meeting up with bits of yarn, leftover fabric, errant buttons, and all manner of glittery goo-gaws, these lonely knitted ones become princesses and superheroes of the knotted world. By chance I stumbled upon a gathering of former sock orphans. I stood in awe at the masterful change wrought through a bit of adornment, a dash of whimsy, and a generous helping of the kind-hearted love of children.
Not only did I espy the formerly useless ones in reunion, but they had met up with a collection of orphan characters. The heap of books shared the triumphant adventures of ever so many orphaned ones. I met each soft-bodied participant, then turned and eagerly greeted all those I had read so long ago and nearly forgotten. Those Happy Orpheline, that plucky Anne with an "E" and a host of other Montgomery heroines, mountain-climbing Heidi, babies dropped on doorsteps, kids left single by epidemics or in the clutches of a wicked step-mother, and all other forms of abandonment one can imagine. I thumbed through the books whilst sipping my tea, eager to launch into a re-read of every one of these treasures and their marvelous happily-ever-after endings. Hope bound between the covers or hope stitched onto a sock, it mattered not so long as hope made an appearance.

Lost in wonderings and musings I turned to refill my teacup and ran smack into an angry mob brandishing signs reading: WE DEMAND EQUAL TIME FOR PIPECLEANERS!
I stopped, stunned at the realization that politics had entered my Faerie Tale Friday reverie.
* * * * *
[The Artists: Elizabeth, Lydia, Rachel]
Go
here
for more sock sightings.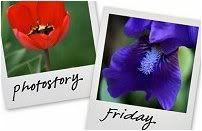 Hosted by Cecily and

MamaGeek