Without TV what will she see?
Without a view, what will she do?

Restricted games may make her odd
In a world given over to a remote and a nod.

Her parents sow such a curious lot --
Releasing the child to the world of thought.

Books and music, how sublime;
Odds and ends and lots of time.

The child sports a bloom
Negating predicted doom:

She thinks . . .

. . . Me thinks.



And teeth that gnash.



Happy kid . . . artist . . . inventor . . .
Despite lack of Wii.

(Imagine a world . . . )



P.S. I see from some of the comments that I gave the impression Rachel lost her Wii. She didn't . . . she never had one.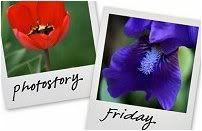 Hosted by Cecily and MamaGeek