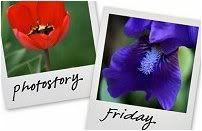 Hosted by Cecily and MamaGeek
* * * * *
Lydia: "Mom, remember I need cookies or something to share tonight when we go caroling."
Mom: "Sure, I remember. What do you want to make?"
Lydia: "I don't especially like cooking . . ."
Rachel (enthusiastically): "I DO! I'll make something!"
And off she dashes to retrieve her favorite cookbook:
by Isabella and Olivia

Gerasole
Just three simple ingredients (butter, sweetened condensed milk, and chocolate chips) and a few basic tools get this girl started on her way to sweet success.
First she selects a microwavable bowl, places 4 oz of butter in the bottom, adds a can of sweetened condensed milk,

. . . then pours in 1-1/2 bags of chocolate chips. (Rachel
recommends
the dark 60% cacao variety by
Ghirardelli
, but any chips will do -- be bold, experiment.)
Next she mixes with a wooden spoon,
. . . and microwaves the mixture on low (power 3) until melted, smooth and glossy. Rachel checks the consistency about every two minutes until it reaches that smooth
fudgey
stage.
Finally she pours the mixture into an 8 x 8 glass pan lined with plastic wrap,
* * * * *
Aaaaaahhhhh . . . another happy ending at day's end. (And remnants of fudge lying in a bowl on the counter -- where's my willpower? I know I had it here just a minute ago.) ; )