Still, and oh so still, one kitty sits in the garden -- waiting . . . watching . . . wondering what is afoot on this most delightful of Faerie Tale Fridays. With the crisping of leaves and the soughing of winds, the garden dances with fall's delights. A gentle stroll over crispy leaves and crunching twigs signals someone's afoot in the magical woods.
Alas, I've arrived but the faeries have flown. Only silent abodes meet my curious gaze. Pixie builders have scavenged the fall-littered hollows and gleaned the most inviting of mosses, barks, and fir cones with which to craft a hearth and home.
A few steps beyond lies another spritely cottage. Here too I meet silence, though the acorn-cupped tea set still sits table-top, while berries delicious have rolled 'cross the floor from the swiftly blown breeze of a hasty retreat.
Yet, I pause and I peer at the delicate work. Then I grin as I ponder a most wonderful wish -- oh how joyful to lay eyes upon a faerie housekeeper and her neighborhood friend. Just a glimpse, nothing more, only once to see the sight. Eyes pressed closed, wishes wished, I flash open my eyes and capture sight of two pretty, pretty faeries flashing impish grins at me.
Wide-eyed staring on my part, while most impolite, also causes the eyes to dry mercilessly. Nature forces me blink for refreshment and whence I open my batted lash I stand staring at a blue wildflower patch and wonder afresh whether the gentle blowing grasses tattle of the faerie's retreat or merely wave in the blustery laughter of Mother Nature at play with me.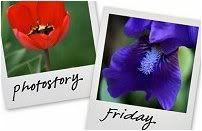 Hosted by Cecily and

MamaGeek